Ready for Spring? Come see us at the Dickson County Outdoor Show!!!
We hope to see all of our Dickson people at the Dickson Farm, Home, & Garden Show this weekend! We know many of you have the Spring itch, and this is a great place for the whole family to have a great time and gear up for warmer and sunny days! Make sure you stop by our booth and say hello! 
For more information visit: www.dicksonoutdoorshow.com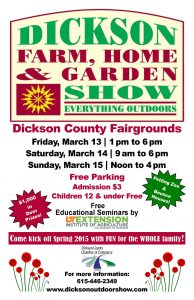 We'll see you at the fairgrounds!! 
~The Doo Doo Guru